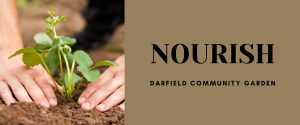 The goal of Food Resilience is to ensure that people have access to sufficient, safe, nutritious food to maintain a healthy and active life, using shared knowledge, skills and resources. Many of us are concerned about how our food is grown and processed and are taking more responsibility for what we eat. We aim to provide training and information that will help you get the most from your efforts. We have a regular monthly Nourish project that has topical discussions or practical training. We are developing a community garden in Darfield and want to encourage these in the wider district.
Nourish Project
The Nourish project relates to people and healthy gardens, enjoying nutritious food. We have a monthly topical discussion on the last Thursday evening each month at Darfield Baptist Church foyer (15 Greendale Road). We also arrange occasional practical workshops where knowledge and skills are shared. Popular workshops gave practical experience for pruning and grafting fruit trees and making a 'hot compost' for your garden. We place a high value to sharing ideas and learning together, so you don't have to worry if you're a beginner gardener or if you have more failures that successes.
Topics in 2018 include: seed saving; propagating plants and trees; permaculture principles; composting and soil nutrition; creating an urban garden; grafting workshop; developing a garden plan and more …
Each evening will also include supper, a swap table and the chance to ask general questions or share ideas, successes and failures. Click here for the upcoming programme.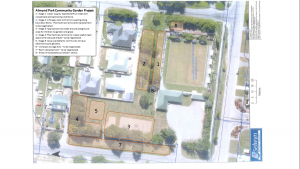 Community Gardens
Darfield has a community garden in Almond Park. This is beside the Bowling Club (between Clinton and Russell Streets). Selwyn District Council has granted a licence to occupy the park for the purpose of developing gardens and an orchard. There are a range of garden plots, berries and fruit trees planted.
Community gardens provide a great place to build friendships around gardens, to provide social interaction and care, to learn and share experience in relation to growing food and taking good care of our environment. Other values important to us are * Organic * Local * Fresh * Nutritious * Varied * Eco Diversity * Freely Shared * Enjoyable * Community Driven * All Ages *
You can join in the shared work time each Monday morning 10.00am (weather permitting). You are welcome to visit the garden any time and help yourself to any fruit and veges that are ready for harvest (see the notice board), or contact us to register your interest.