Our Mission
Our vision is for our district to be a resilient community where people belong, contribute and flourish.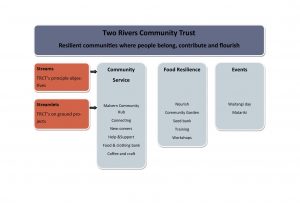 Our Values
We value:
 Connectedness – We will be intentional about seeking to build healthy relationships and partnerships and providing an atmosphere of welcome, compassion, inclusiveness and facilitation.
 Empowerment – We will provide opportunities and the environment to give people a hand up and to grow through equipping, training, coaching, mentoring in order that they will be strengthened and able to contribute.
 Holistic Well-being – We recognize and accommodate the different needs according to social, emotional, physical, spiritual, cultural and ethnic requirements and various life stages.
 Humility – We acknowledge that each person matters to God. We value diversity within all people and will treat people with dignity, honouring their unique needs, circumstances and abilities.
 Innovation – We encourage creativity in meeting needs and in helping others explore new possibilities.
 Integrity – We will operate with openness, transparency and honesty.
 Sustainability – We will develop our capacity to enable growth and lasting change.
Our Strategic Plan
We have a strong emphasis on looking at what resources we have locally, and how we can create interdependence. This is the essence of sustainable community. Communities are strengthened when we recognise that collectively we have the people, resources and answers. We like collaborating and using partnerships to complement each other's strengths. We enjoy helping people discover and increase their own strengths and capacity.
Our focus is within the Malvern District and our 'two rivers' are the Waimakariri and Rakaia.
Our streams sit alongside each other giving a broad focus to respond to needs and opportunities within our community. They also weave across each other like our braided rivers, where there is common interest and action. An example of this includes people from our Nourish Group getting together to process the surplus harvest and donations to the community garden for the community pantry.
We are funded by donations, grants and contracts through a range of community organizations, charitable trusts, local businesses and individuals and partnerships with Selwyn District Council and Government Agencies. We welcome any donations Kiwibank 38-9015-0256691-00. As we are a registered charity, donations are tax-deductible.
Two Rivers Community Trust is a registered charity (CC51460).
Our History
The Two Rivers Community Trust is a Christian-based charitable trust, established in 2013 as an initiative of Darfield Baptist Church, which has been active in the district for more than 140 years. Our church's rallying call is, we are Here to Make a Difference.
Over the decades members of the church have contributed in many ways and sectors of society. Following the February 2011 earthquake that devastated Christchurch, a group from the church facilitated a valuable, sustained effort to provide practical, social and spiritual help to the city. This ranged from food, to accommodation, to prayer, to visiting, to shoveling, to repairing, to transporting, to networking … and was known as Malvern Community Help. Many of you reading this will have been important contributors to that shared community and churches-based effort.
As the recovery changed its emphasis and our involvement was lessened, we recognized needs in our own district and the value of working together. We also recognized that we would need to increase our capacity to go beyond a purely volunteer response.
As a church we valued the help of so many from around the district, many of whom had no church affiliation, or some other church commitment. We also recognized the initiative and abilities of folk from Darfield Baptist Church in facilitating local involvement.
As the Trust was established we recognized the relationship with Darfield Baptist Church. We also ensured that others who share the vision can be invited to be Trustees or 'friends' of the trust, by attending our regular meetings. We believe that a strengths-based approach has tremendous potential for good, and by channeling resources we will become a blessing and source of initiative for community development.
Privacy policy
Please read our privacy policy.